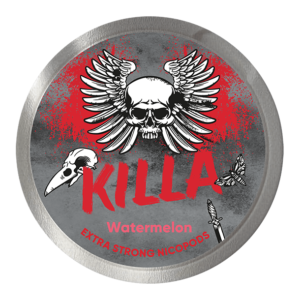 Out Of Stock
Description
Killa Watermelon contains a combined flavor of sweet watermelon and refreshing mint. In addition to the strong nicotine kick, it also gives a sweet but refreshing flavor sensation.
Killa nicopods also called Nicopods are produced by NGP in Lithuania, Sweden. Killa pods have a high nicotine percentage and are made for experienced users who no longer want to consume tobacco, but still enjoy the effect of nicotine.
Killa pods has a wide range of flavors:
The nicotine pouches do not contain tobacco. Instead, the pouches contain nicotine and cellulose extracted from tobacco plants. The nicotine pouches also called Snus in Sweden, can be ordered in different flavors at Snusalert!
This product is extra strong. Not recommended for beginners, only for experienced users.
Pay attention. This product contains nicotine, not tobacco. Nicotine is an addictive chemical substance. The nicotine bags do not stick to, nor discolor your teeth.
Specifications
Specifications
Content
10 g
Nicotine (mg/portion)
24 mg
Portions
20
Taste
Water melon
Volume
Slim
Nicotine Pouches
Killa Watermelon
Stock:

Out Of Stock

Model:

Watermelon

Weight:

30.00g

Dimensions:

7.00cm x 7.00cm x 2.00cm

SKU:

KL0007

KILLA