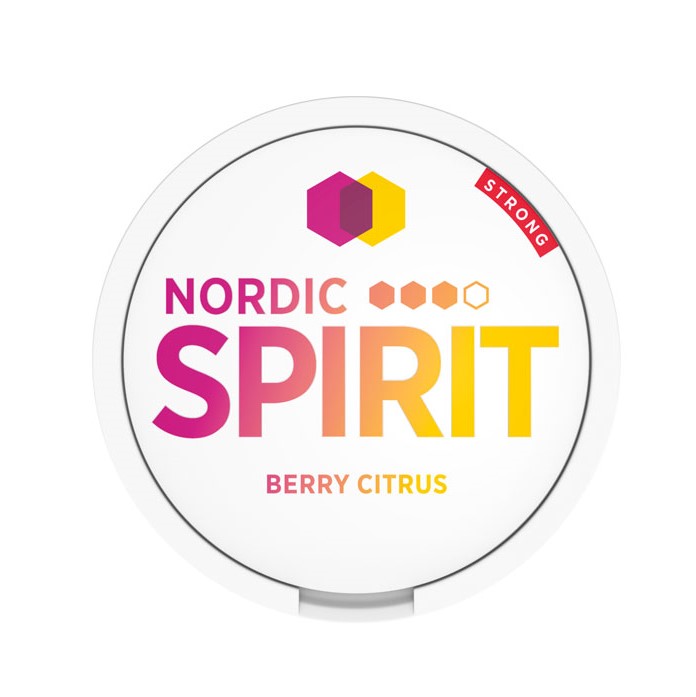 In Stock
Description
Nordic Spirit Berry Citrus contains a combined flavor of sweet and sour citrus and sweet wild berries. In addition to the strong nicotine kick, it also gives an intense fresh flavor sensation.
Are you looking for strong or mild nicotine pouches, also known as Snus? Then you are at the right place at Snusalart!
Experience the fresh and fruity flavors of Nordic Spirit All White now!
The refreshing taste of bergamot combined with sweet hints of wild berries or mint are characteristic flavors of Nordic Spirit nicotine bags that last pleasantly long.
Nordic Spirit uses a filling consisting of natural plant fibers, so that the nicotine bags remain white before and after use. As a result, the nicotine bags do not leave stains on your teeth. The dots on the nicotine pods make it easy to choose the right strength!
Pay attention. This product contains nicotine, not tobacco. Nicotine is an addictive chemical substance. The nicotine bags do not stick to, nor discolor your teeth.
Specifications
Specifications
Content
16.8 g
Nicotine (mg/portion)
9.1 g
Portions
20
Taste
Citrus
Volume
Slim
NORDIC SPIRIT Berry Citrus
Stock:

In Stock

Model:

Berry Citrus

Weight:

30.00g

Dimensions:

7.00cm x 7.00cm x 2.00cm

SKU:

NS0001

NORDIC SPIRIT